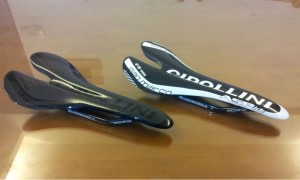 Cipollini was born in Lucca, Tuscany. His career highlights include the Road World Championships and Milan – San Remo in 2002, and 42 stages in the Giro d'Italia. Cipollini's 42nd Giro stage win in 2003 – his last stage win in that race — broke the record by Alfredo Binda that had stood since 1933. He also won 12 stages in the Tour de France and three stages in the Vuelta a España. In the 1999 Tour de France he led the peloton on the fastest stage in the history of the Tour, averaging more than 50 km/h over 194.5 km. In the same Tour, he won 4 stages in a row, setting the post-WWII record for consecutive stage wins. He has also found success in Belgium, winning Gent–Wevelgem in 1992, 1993 and 2002 (record).
At the peak of his career, Cipollini's speed was unrivaled, and he is credited with being the first rider with a sprint train. The red jerseys of his Saeco team were commonly seen at the front of the peloton toward the end of the flat Grand Tour stages in the late 1990s. The train kept the pace high in the closing kilometers, to dissuade opposing riders from attacking and to ensure that in the final 200–300 meters, Cipollini was the only cyclist able to maintain the speed. This changed the way teams approached mass sprints and bred a new generation of sprinters such as fellow Italian Alessandro Petacchi.
The beginning of 2002 saw Cipollini win Milan – San Remo with his new Acqua-Sapone team, and later Gent–Wevelgem. However, a falling out with the organizers of the Tour de France made him announce his retirement. Italian national coach Franco Ballerini convinced him to return to competition, and built the Italian national team around Cipollini for the 2002 UCI world championship. Cipollini won the rainbow jersey in a sprint finish in Zolder, Belgium.
In the 2003 Giro d'Italia Cipollini focused on Alfredo Binda's record 41 Giro stage wins while in the world champion's jersey. His attempt was almost derailed by Alessandro Petacchi of the Fassa Bortolo team. After many failed attempts, he finally broke the record, although he had to abandon the next stage due to injuries in a crash on a rain-soaked finish. He said that the crash ended his career. His team, Domina Vacanze-Elitron, was left out of the Tour de France that year, prompting a comment from Cipollini that the organisers disrespected the rainbow jersey. When he retired from the 2004 Giro due to another crash, it was the only time he entered the Giro without winning a single stage.
In 2008, he returned to competitive cycling with the Rock Racing team at the Tour of California.